How to set up a merXu account - step by step
Go to the REGISTRATION page. You can click on the "Register" button on the merXu page in the top right corner.

Complete the form. It only takes a minute! Fields with asterisks are mandatory.
Company contact details: e-mail address and telephone number.

VAT/TAX ID - Tax Identification Number - your company name will be automatically added.

country where the company is registered.
The e-mail address is one of the most important pieces of data, and it will be used as:
account ID, e.g. when logging in,

the address to which we will send notifications concerning the account, including about the registration and verification stages of the account.

the address to which you will receive marketing information from merXu.
The telephone number you provide in this section may be used to contact you during order processing.
After entering the data in the appropriate fields of the form, read and accept the content of the Terms and Conditions and select the marketing consents of your choice. You will finish setting up the account using the "CREATE ACCOUNT" button.
A welcome message will be sent to the email address provided in the above form. To finish registration just click "ACTIVATE YOUR ACCOUNT" button or copy the following URL into your browser.
!Remember - this link will only work for 24 hours.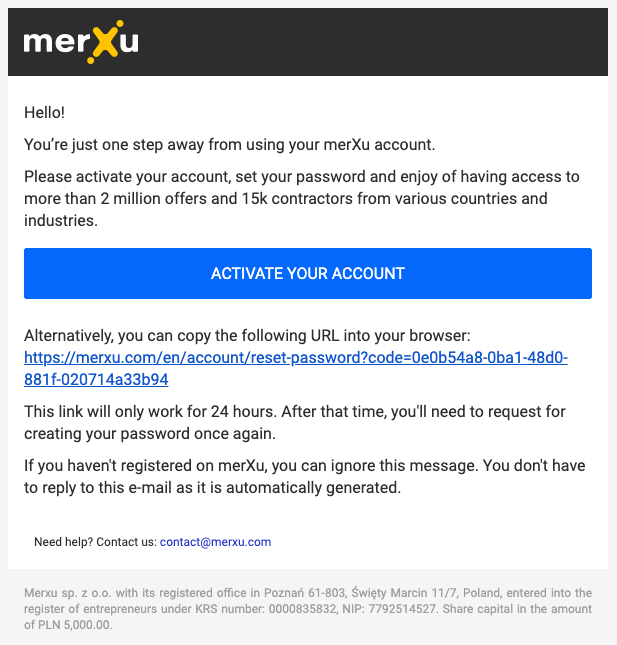 After setting the password, you will be able to log into merXu. However, please give us a moment so that we can verify the details you provided and activate your account.
We will inform you about data verification and account activation in a separate e-mail.
Now you just need to refresh the page or log out and log in again.
Feel free to shop! See how to buy on merXu.