Cash Box
The "Cash box" promotion is aimed at all buyers on the platform, both first-time buyers and experienced buyers on merXu.
How it works
Every buyer can get a bonus of EUR 425 per month and EUR 1275 per quarter from merXu.
When you receive the invoice from the seller for the purchased item(s), upload it into the system by going to My merXu > Promotions > Invoices HERE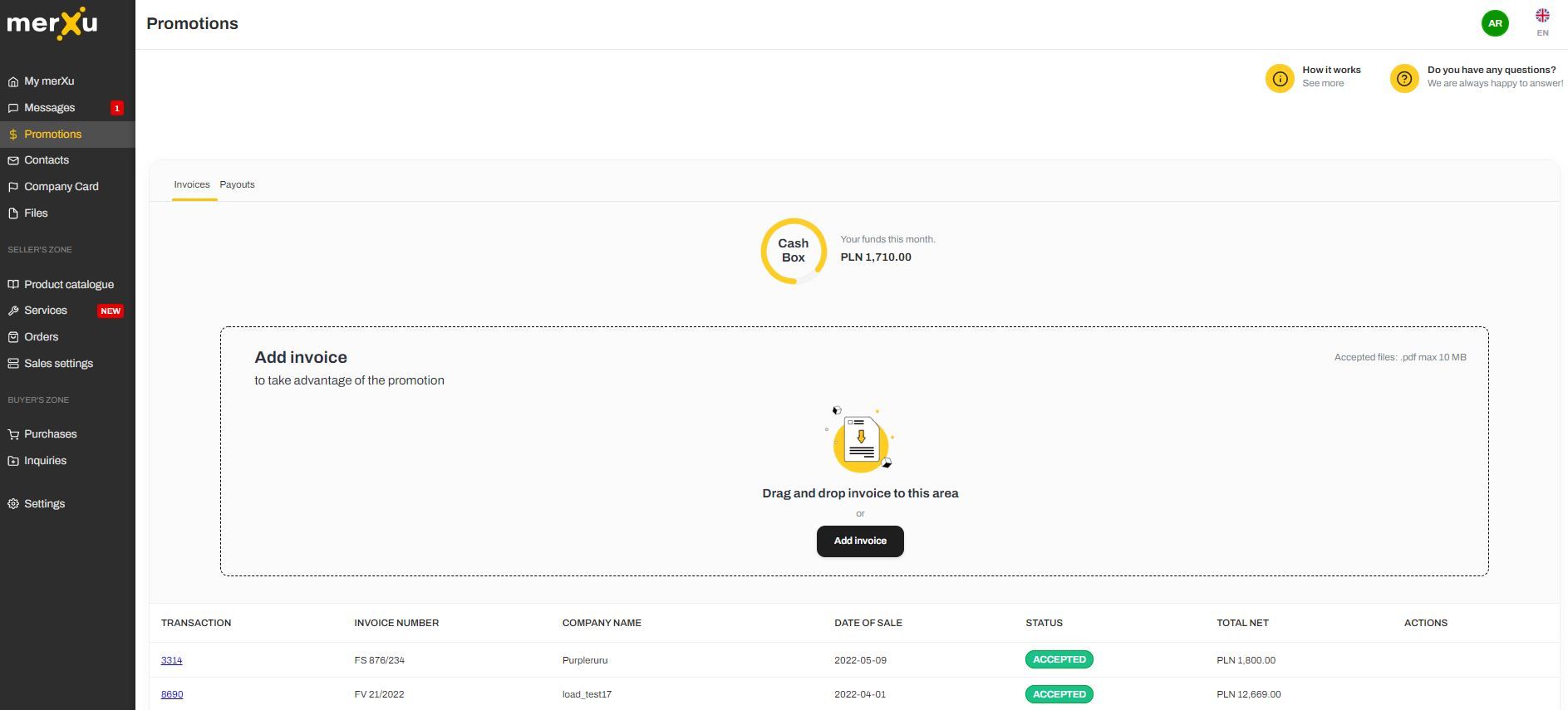 If you have uploaded your first invoice, you will receive 20% of its net value (excluding shipping costs) from merXu. The cost of your first purchase cannot be less than EUR 300 (excluding shipping costs). The invoice should be given to you via merXu messenger and the items on the invoice must be items listed on merXu.
After uploading your next invoice(s) you will receive 8% of its (their) net value (excluding shipping costs). In any case, the payment cannot exceed the monthly limit (EUR 425). The limit renews at the beginning of each month until the total bonus pool of the promotion is reached.
Uploading an invoice
1. Add invoice(s) to the system via My MerXu > Promotions > Invoices HERE
2. After selecting the invoice, a form for adding an invoice to the promotion will be displayed, in which you complete:
Name of promotion;
Transaction for which you want to take advantage of the promotion

;

Full invoice number;
The net amount of the invoice, excluding shipping costs (pallets or the service of bringing in and unloading the goods are also not included);
Currency as shown on the invoice;
Date of sale on the invoice.
! MerXu accepts applications through the system within 4 weeks from the date of purchase indicated on the invoice. Applications uploaded after this date will not be accepted.
! After uploading your invoice, wait for it to be verified by the merXu team. After this time, the ability to add more invoices will be unlocked.
Each subsequent withdrawal will reduce the bonus available to you until you have used up your EUR 425 bonus which can be seen in your merXu account under My merXu > Promotions > Payouts HERE
Bonus payout
In order for the withdrawal to be processed, your company bank account number should be completed in your merXu account. You can add it in My merXu > Settings > Company Profile HERE
Payouts are verified by the merXu team. Automatically, once the payout is approved, the system generates an accounting note and orders a transfer to the bank account provided in your merXu account settings.
The accounting note will be available under My merXu > Promotions > Payouts HERE

Please note - It may take up to 28 days for the promotion to process and for funds to be withdrawn.