Cash Box
Buy and save for your transactions
The "Cash Box" promotion is aimed at all buyers from all EU countries and lasts from from November 13, 2023 until December 15, 2023.
I. How it works
Every buyer can get a bonus of 5% of the purchase price (excluding VAT) for the purchase of product or products sold via merXu categorized in any of the following subcategories within the main category Renewable energy:
Photovoltaics module
Inverters
Installation and accessories
Heat pumps
Energy storage
Tools for electricians
Mounting elements
Installation safety
Air conditioning
Electric vehicle chargers
PV Sets
Renewable energy sets
Wind power
if the amount of this purchase or purchases combined is at least EUR 1 000. That means that you may enter this promo action with the single transaction for at least EUR 1000 and but also with more smaller transactions where the total sum exceeds 1000 EUR. 
The total maximum amount which is allowed per every buyer during this promotion is EUR 200.
Cash Box cannot be combined with the Free delivery promotion.
II. Uploading an invoice
The invoice should be given to you via merXu messenger and the items on the invoice must be items listed on merXu. When you receive the invoice from the seller for the purchased item(s), upload it into the system in the section (order page) where the particular purchase was concluded (My merXu - Messages - My purchases),  but not later than until December 18, 2023.
Remember that if you want to upload the invoice within the order page you need to confirm the transaction on merXu by clicking on the button "Buy" at the particular order. Once you do that the option to upload the invoice is activated.

Now you may request for cashbox. Once you do that you need to fill in the invoice number, date of the sale and upload the invoice.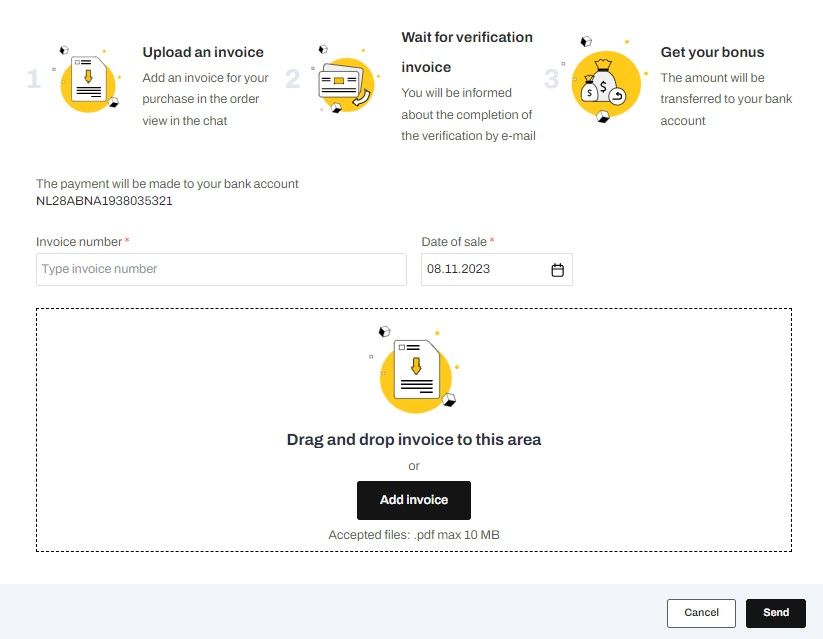 After uploading your invoice, wait for it to be verified by the merXu team. 
III. Bonus payout
In order for the withdrawal to be processed, your company bank account number should be completed in your merXu account. You can add it in My merXu > Settings > Company Profile HERE
Payouts are verified by the merXu team. Automatically, once the payout is approved, the system generates an accounting note and orders a transfer to the bank account provided in your merXu account settings.
The accounting note will be available under My merXu > Promotions > Payouts HERE

Please note - It may take up to 30 days for the promotion to process and for funds to be withdrawn.
The promotion rules can be found HERE